Heat Pump Maintenance in Springfield, Ohio
Routine maintenance will not only ensure your equipment operates efficiently, but it will also extend the life of your unit and its warranty. A poorly maintained unit will not only neglect to heat your home properly, but it can also be inefficient and potentially even dangerous. Each style of the unit can become a fire hazard.
We strongly suggest that you have your heat pump serviced each and every year. Doing so is an inexpensive way to ensure safety as well as longevity, and will save you money in the long run. It's easy to neglect your heat pump and postpone maintenance, but once you realize why regular service is so important, you'll never miss a routine appointment again.
Call today to have your Heat Pump serviced! (937) 350-1881.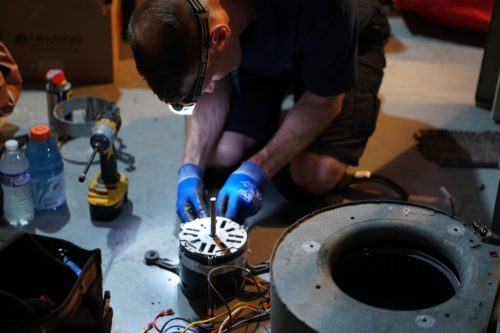 3 Benefits of Heat Pump Maintenance
Longer Life Span —

Tightening electrical connections, replacing worn belts, and cleaning the indoor and outdoor coils are all measures that protect system components and help them last longer.

Lower Energy Consumption — More efficient heat pumps consume less electricity, saving you money over time. 
Improved Comfort —A few adjustments and inspections can improve the heating and cooling output of the heat pump. Simple measures like calibrating your thermostat give you more control over the air in your home. 
What Happens During a Heat Pump Maintenance Appointment?
During a Heat Pump Maintenance appointment, our trained technicians will inspect a few elements of your system. We'll inspect your air filter, which should be changed 1-3 months, depending on its performance. We'll check refrigerant levels, check your thermostat and reversing valve. Most importantly, we'll educate you and answer any questions that arise. Our technicians will then help you make any decisions necessary.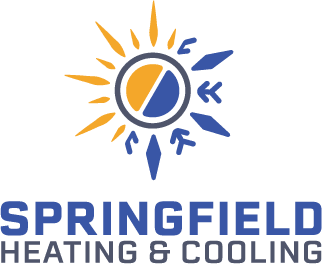 10% off Service Call
Book Now
We Service Every Brand of Equipment 
It doesn't matter if we initially installed your system. Our technicians can repair any make or model of heating system. Here's a few trusted brands we work closely with:
Why Is Heat Pump Maintenance Important?
Ask around in the HVAC industry and every professional will tell you this: your heat pump should be serviced at least once a year to guarantee proper functionality and safety. Furthermore, heat pump manufacturers themselves suggest annual inspections in addition to maintenance by a certified technician. Warranty terms are usually contingent on proper maintenance. At Springfield Heating & Cooling, we provide all the heat pump services you need: repair, maintenance, and new system installation. We can keep your warranty valid so you won't be caught off guard.
When to Repair vs. Replace Your Heating System
A Heat Pump can last up to 20 years, however, if you start noticing signs of decline, you may not need to wait that long to replace. Maintenance plays a big part in the longevity of your unit. 
Energy Star
 recommends replacing systems that are older than 10 years. That's because newer systems generally employ higher efficiency features that can greatly increase your energy savings. New heat pumps today use two-stage compressors, variable-speed air handlers, and more efficient coil design to optimize comfort and energy savings. Consider all factors before deciding to replace them. 
We understand that HVAC issues can arise with little to no notice, making repairs a big decision for you and your family. We carefully consider your budget, that's why we offer HVAC financing as well as online deals to save you money!

Why Springfield Heating & Cooling For HVAC Services in Springfield, Ohio?
With over 45+ years of experience, our trusted HVAC technicians are seasoned, highly trained, and well equipped to get the job done, no matter how big or small. Whether you're looking for repair, maintenance, or replacement, Springfield Heating & Cooling is your one-stop-shop for HVAC needs. 
We proudly serve the community of Springfield and the surrounding areas. Check to see if we service your location!