Heat Pump Repair in Springfield, Ohio
Homeowners: Don't allow your heating system to surprise you this winter, leaving you out in the cold. Your friends at Springfield Heating & Cooling have you covered if and when you happen to need any heat pump repair work, emergency or non-emergency. If you find your heat pump isn't turning on, we're here to help if you are unable to fix the problem by yourself.
We offer Heat Pump Maintenance and Heat Pump Installation + Replacement.
What is a Heat Pump?
A heat pump is both a heating and cooling system, extracting heat from the air and moving it via an air handler to another location. In the summer months, a heat pump will extract heat from your inside air and relocate it outdoors, essentially cooling your home. In the winter months, a heat pump system will move heat energy from the outside air into your home. 
The ability to either heat or cool a home, combined with the fact that it moves heat rather than creates heat, makes a heat pump an excellent option for consumers interested in energy efficiency and versatility. (Source)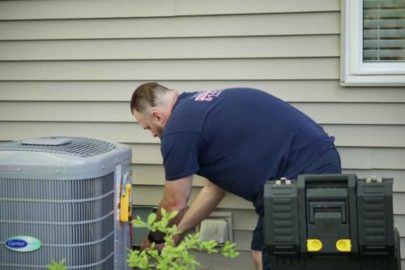 4 Reasons to Repair a Heat Pump
Leakages — Ignoring a leaking heat pump can lead to water damage, mold infestations, and electrical issues. This could lead to more expensive repairs.
Drain Problems — A clogged drain pan could overflow and create a puddle around your pump. If the drain line is clogged, this could cause a water overflow which leads to leaks. 
Frozen Evaporator Coils — Low levels of refrigerant can lead to ice forming on the cooling coils. This prevents the effective performance of the unit.
Cracked Overflow Pan — Over time, the overflow pan may begin to corrode which can lead to cracks, resulting in an overflow or leak. 
We Service Every Brand of Equipment 
It doesn't matter if we initially installed your system. Our technicians can repair any make or model of heating system. Here's a few trusted brands we work closely with:
Why Is HVAC and Heat Pump Maintenance Important?
Like any type of heating and cooling equipment, maintaining your heat pump is essential to keep it in top working order. Spring and Fall are the best times to schedule preventative maintenance because the weather in the Springfield area is at its mildest, and the service prepares your heat pump for the upcoming heating and cooling seasons. We all know Ohio weather is unpredictable, so it's best to stay on top of your HVAC maintenance in case of irregular weather!
When to Repair vs. Replace Your Heat Pump
Sometimes it's difficult for homeowners to determine if their heat pump needs to be replaced or simply repaired. While taking into consideration the overall costs of repairs, in the long run, we at Springfield Heating & Cooling encourage homeowners to consider some other factors when deciding if it's time for a new Heat Pump.
Do you notice leakage in or around the unit?

Are there warm "zones" in your home?

Does your unit make unusual sounds?

Does your home feel cool or warm enough?

Is there adequate airflow?

Does your heat pump take longer to cool or heat your home?
We understand that HVAC issues can arise with little to no notice, making repairs a big decision for you and your family. We carefully consider your budget, that's why we offer HVAC financing as well as online deals to save you money!

Why Springfield Heating Cooling For HVAC Services in Springfield, Ohio?
With over 45+ years of experience, our trusted HVAC technicians are seasoned, highly trained, and well equipped to get the job done, no matter how big or small. Whether you're looking for repair, maintenance, or replacement, Springfield Heating & Cooling is your one-stop-shop for HVAC needs. 
We proudly serve the community of Springfield and the surrounding areas. Check to see if we service your location!