HVAC Experts You Can Trust in Sprinfgield, OH
Quality People.
Quality Service.
$49 Diagnostic Service Call

It's our mission to keep Springfield cool during the hot, summer months. If your A/C needs repaired, maintained, or replaced, we've got you covered.

Keep your home warm and cozy during the chilly months of winter. If you're having Gas or Electric Furnace problems, or Heat Pump issues, we can get the job done! 

Keep the air in your home fresh and allergy-free. We offer a few different products and services to guarantee your family breathes high-quality air.

Springfield HVAC Experts You Can Trust
About Springfield Heating & Cooling
At Springfield Heating & Cooling, you're more than just a customer. We treat you like family from the moment you contact us. We strive to provide only the best HVAC services at a competitive price while offering online deals and financing options you can afford.
We at Springfield Heating & Cooling are dedicated to delivering quality service at a price you can afford. Our technicians have over 45+ years of combined experience. Quick, reliable, and qualified, we are equipped to answer your heating and cooling needs. Experience the Five Star Difference today! Give us a call today at (937) 350-1881.
Proud Five Star Member
We present our Customer Satisfaction Guarantee to provide you with peace of mind knowing that we stand behind our service technicians, installation specialists, and our customer service team.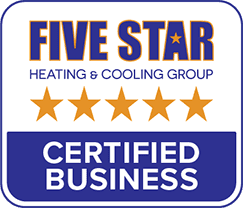 Over 45+ years of experience
"Amazing Service"
"Michael and Josh were both amazing! The customer service on the phone and in the home was beyond my expectations."
– Joel, Our Customer
"6 out of 5 stars"
"Great company because of their amazing customer service team! They are genuinely concerned with the customer's satisfaction and not making a quick buck. If I could give 6 stars I would. Great job!"
– Richard, Our Customer
"Extremely Satisfied"
"Amazing customer service. Extremely satisfied with everything. I would highly recommend using them for all your future heating and cooling needs."
– Stephanie, Our Customer