Furnace Repair in Springfield, Ohio
What's worse than a broken furnace in the dead of winter? We'll always recommend regular furnace maintenance for optimal performance during the off-seasons. But we get it, sometimes you'll need repairs. If you find yourself needing repair services in Springfield, Ohio, you've come to the right place!
Call today to learn more at (937) 350-1881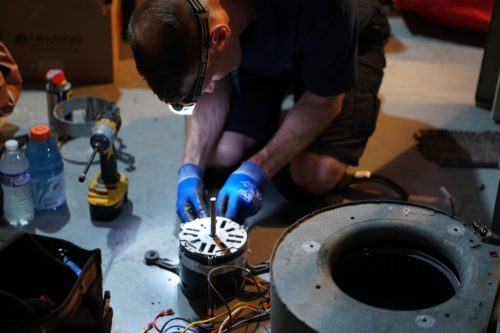 6 Signs You May Need Furnace Repair
Ineffective Heating — a few common causes are a clogged burner, a clogged filter, faulty motor, or even a faulty thermostat.
Strange or Loud Noises — do you hear banging or other strange noises coming from the furnace? A common reason is a defective ignitor.
Increased Utility Bills — when something is wrong with your furnace, it often burns more gas or electricity to compensate. Over the course of a month, this can really add up.
Frequent Cycling — does your furnace turn on and off frequently? This could be due to a faulty thermostat, improper air circulation, or a clogged filter. 
Carbon Monoxide Alarm Alerts or Gas Odors — If your home's CO alarm has been triggered, immediately turn off the furnace and call emergency services. Gas leaks can be fatal and should be urgently handled by a professional.
Furnace Failure — if your furnace flat out stops operating, call us right away. 
We Service Every Brand of Equipment 
It doesn't matter if we initially installed your system. Our technicians can repair any make or model of heating system. Here's a few trusted brands we work closely with:
Why Is Heating and Furnace Maintenance Important?
Routine furnace maintenance is the key to a healthy, efficient heating system. If you want optimal performance, maximized energy-efficiency, and reliable heat, we recommend annual maintenance. Don't wait for your system to break down, schedule furnace maintenance with Springfield Heating & Cooling today!
When to Repair vs. Replace Your Heating System
A good place to start is to consider the age of your unit. The average life expectancy of furnaces these days is 15-20 years. If your furnace is younger than 15 years old, you should look into repairing it. If it's older than 15-20, you may want to start shopping around.  Technology improves every year, so it may be time to move toward a more modern, up-to-date unit. Another indicator of replacement is if you frequently need repairs, and these repairs are beginning to cost more than a new unit. And these are just a few comparisons.
Schedule a Service Call today and a technician will help you decide what the best options are.
5 Symptoms of a Heating System Needing Replacement
Higher Energy Bills — furnaces lose their efficiency as they age, especially if not properly maintained.
Frequent Repairs — always consider other factors to determine if you'd save money by installing a new unit.
Unusual Noises — If you hear banging, crashing, squeaking, these are indicators that something's not right with your unit.
Aging Unit — The average life expectancy is 15-20 years.
Uneven Heating — If heat isn't being distributed evenly, your furnace will work twice as hard, causing higher energy bills.
We understand that HVAC issues can arise with little to no notice, making repairs a big decision for you and your family. We carefully consider your budget, that's why we offer HVAC financing as well as online deals to save you money!

Why Springfield Heating & Cooling For Furnace Repair in Springfield, Ohio?
With over 45+ years of experience, our trusted HVAC technicians are seasoned, highly trained, and well equipped to get the job done, no matter how big or small. Whether you're looking for repair, maintenance, or replacement, Springfield Heating & Cooling is your one-stop-shop for HVAC needs. 
We proudly serve the community of Springfield and the surrounding areas. Check to see if we service your location!